Natural Language Parsing (NLP) is a feature in Informant that allows users to quickly apply details to an event or task using only its title. For instance, rather than creating an event "Dinner with Thomas" and then individually editing the location, time, date, and other details, NLP allows you to autofill those details simply by typing in the title "Dinner with Thomas 7pm at Gino's". To learn more on how to use the extremely extensive features of NLP, read this FAQ.
---
In order to show you what NLP can do, we'll need to turn it on first. If you have an Apple device, you'll want to swipe from right to left in your Event/Task title field. You'll know NLP is on when you can see Title (or Event description) in the title field. (In order to turn on NLP for your Tasks, you'll just follow the above steps in Tasks as well)
For Android, you'll go into your Informant Settings>Application and toggle Use NLP (Natural Language Parser) on.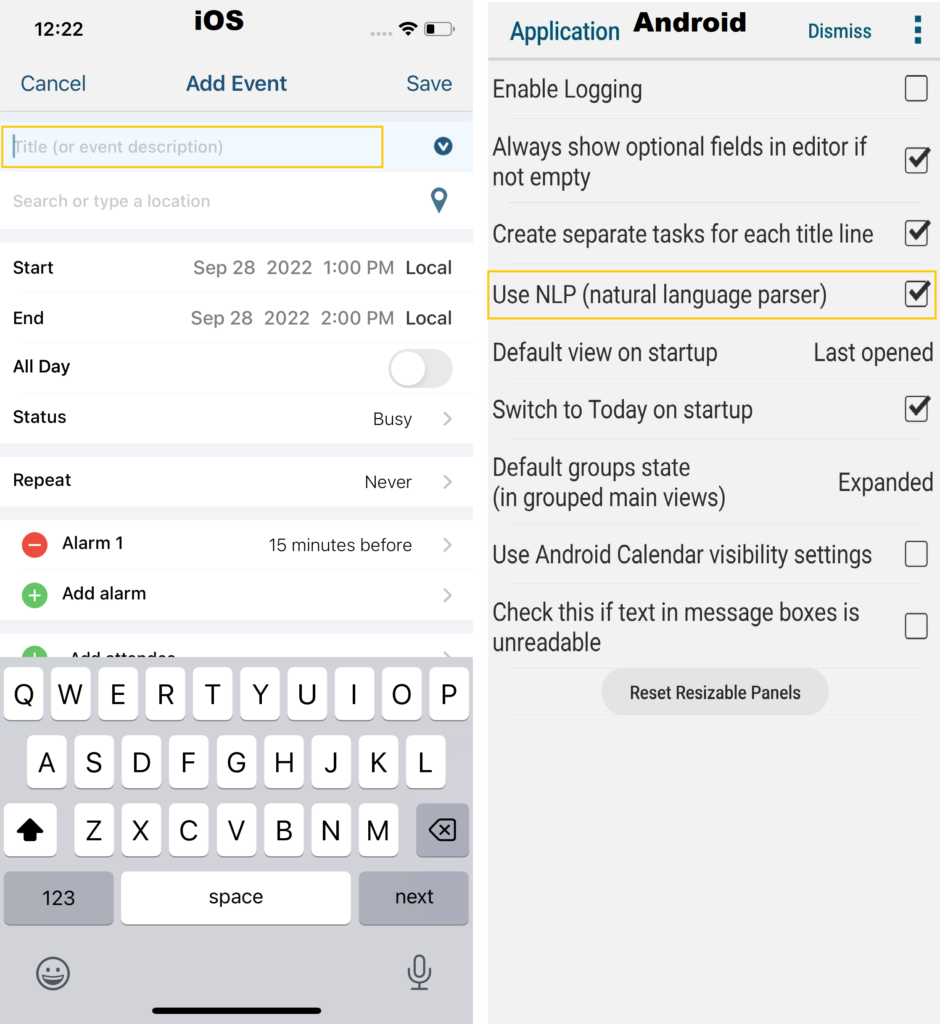 ---
I know you're hungry for some NLP examples so let's get at it!
Let's say you have a dinner reservation at Gino's with your friend Thomas at 7:00pm. Normally, you'd edit your event with something like "Dinner with Thomas" for the title. Then you'd put the Gino's address in the location field. You'd change the time to 7pm and save your event. With NLP, you can type in Dinner with Thomas 7pm at Gino's. NLP will change your start time to 7pm for you automatically and fill in Gino's in the location field. (If you tap the location pin on the right of the window, you'll be brought to a map with the closest Gino's to you. You can select this location to add a precise address)
Let's watch NLP in action:
You can see the time automatically change to 7pm and the location get put into the location field as it gets typed into the title field. Once saved, all of the information is in its correct field and only the title field was typed into.
This is just a fraction of what NLP can do for you. If you read the FAQ above, you'll see how you can add in event/task durations, dates, repeat events/tasks and more.
NLP helps save time by automatically inputting your information in its corresponding field for you. Effectively it's an AI that gives your device the ability to understand text like humans can. And that's pretty darn cool. 😎
Want even more ways to streamline your productivity? Try using our Email to Task feature. Read more here: