---
September 26th is Love Note Day and since we L💖VE our customers, we want to show our appreciation.
From September 26th-30th, make sure to follow us on Twitter, Facebook, and/or Instagram. Using either the hashtag #pocketinformant or tagging our profile, tell us one thing you love about using Pocket Informant. We will do a drawing of all of the participants on Friday the 30th, and 5 lucky winners will get a year of subscription time for free. One lucky winner will get 2 years! 🎉
You can find our social media platforms here:
---
Got a love note you'd like to save? Use the Notes feature in Informant to keep all of your notes organized!
To show Notes on your navbar make sure you go into your Informant Settings > View Settings > Enable Views. Turn the slider for Notes on here and your Notes will be available in one click on your view selector.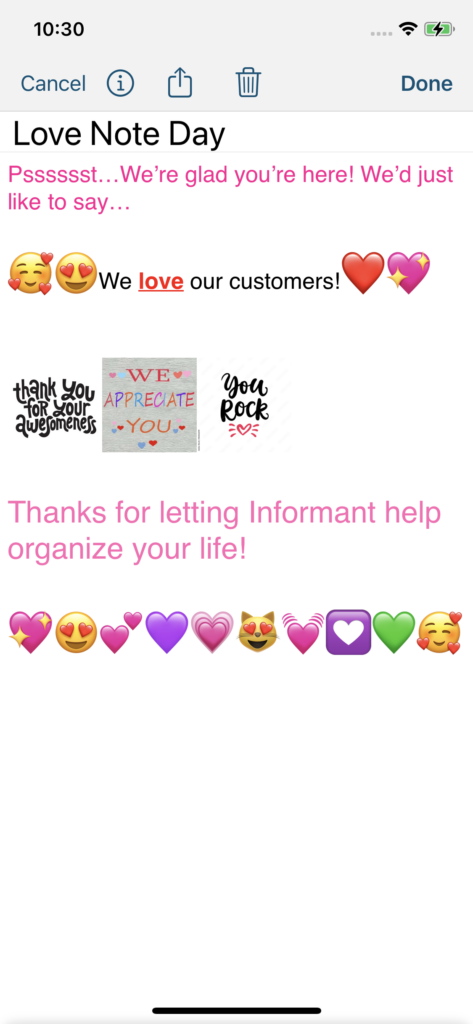 Want to share notes with someone in Pocket Informant?
Here's an FAQ on sharing your data:
https://webis.helpshift.com/hc/faq/365-share-a-calendar-with-someone/
Check out another fun way you can use Informant from our blog:
---
We appreciate all of our customers and we're passing all of you a note that says "We L❤️VE you!" Share the love on social media and we'll pick the lucky winners from those that choose to participate.
Go forth and spread the love. 💞